Optifast VLCD Bar Berry Crunch 60g*6
This delicious bar is on of eleven products in the Optifast range and has a fantastic Berry flavour and satisfying crunch. It is also nutritionally complete, ready to eat and has a low GI.
Each pack contains 6 x 60g bars.
Optifast bars are convenient and ready to eat straight out of the box. One bar is equivalent to one meal on the Optifast program.
What is Optifast VLCD?
The Optifast program is a clinically proven, very low calorie diet recommended for the dietary management of obesity. It has been widely researched and successfully and safely used worldwide by millions of patients since 1974.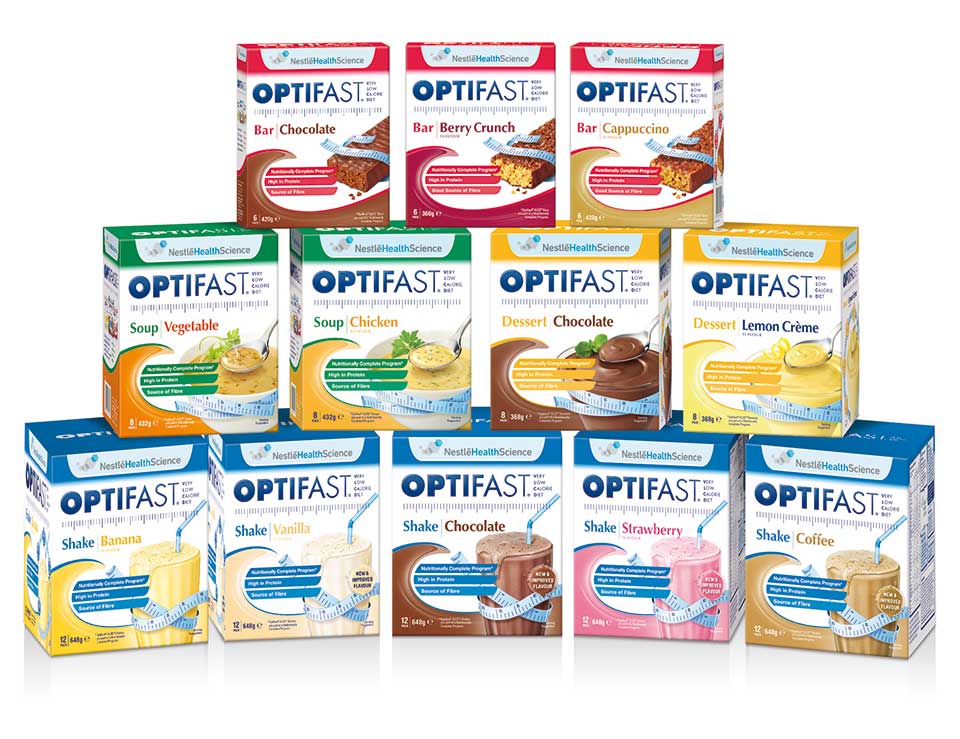 How does it work?
Optifast is incredibly simple. All food is replaced with the Optifast products, which are designed to restrict energy intake, whilst still maintaining healthy nutrition. Reducing calorie (energy) intake to below 800 calories (3448kJ) per day means the body starts to draw energy from its own fat stores instead of from food. Research has shown that very low calorie diets produce greater initial weight loss than other diets (926kg over 4-20 weeks).
What is involved?
In the early stages, Optifast is designed to totally replace normal food intake. As you start to lose weight, normal meals are then gradually re-introduced. There are 10 products in our range each of which contains carbohydrates, essential fatty acids and high quality protein (which helps preserve lean body mass). Each product contains all the daily nutrients, minerals and trace elements the body needs on a daily basis.
There are four stages to the Optifast program and your health professional can advise which is the most appropriate phase of the program for your individual weight loss needs: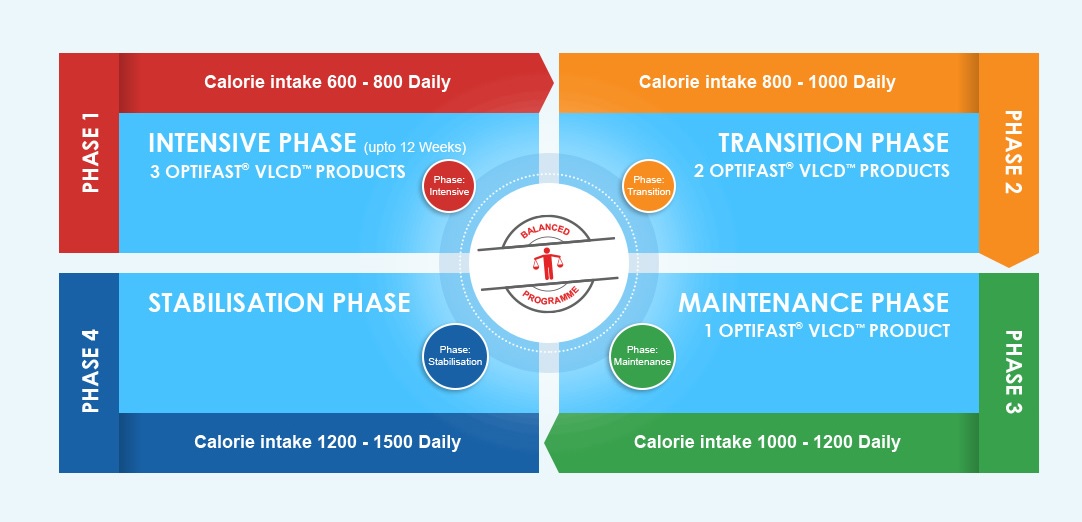 1. Intensive Phase
During this initial phase, Optifast replaces ALL meals and must be taken in combination with 2 cups of low-starch, green vegetables and 2 litres of water per day. Click here to see a list of allowed low starch vegetables.
2. Transition Phase
One low calorie meal (approximately 300-350 calories) is introduced, in combination with 2 cups of low starch vegetables, 2 serves of fruit, 1 serve of dairy (see Allowed Foods List) and 2 litres of water per day.
Maintenance Phase
Once this phase is reached, Optifast replaces just ONE meal a day - in combination with two low calorie meal (approximately 300-350 calories each), 2 cups of low starch vegetables, 2 serves of fruit, 1 serve of dairy and 2 litres of water per day.
3. Stabilisation Phase
Once weight loss goals have been achieved, you should be at a stage where you no longer require Optifast and you are eating healthy, low calorie meals. However, it is vital to maintain weight loss by ensuring calorie intake is restricted to less than about 1500 calories per day. Your health professional may advise you to use Optifast intermittently if you go above your healthy goal weight.
How is it taken?
Optifast comes in bar, shake and soup formats, in individual portions. To make up a sachet, simply add the contents to cold or hot water - then stir or shake. In addition to the sachets, it's important to drink two litres of calorie-free fluid, preferably water, and eat two cups of low starch vegetables every day. Its also important to start a program of light exercise - increasing to moderate intensity (e.g. brisk walking) as weight loss accelerates. Before commencing any exercise program, it is important that you discuss this with your health professional.