LivOn Lypo-Spheric Vitamin C 1,000mg
Why LivOn's Lypo-Spheric Vitamin C?
Most ordinary forms of oral Vitamin C - tablets, capsules, powders, liquids and even the Vitamin C from your diet are not processed and absorbed efficiently by your body. As a result, much of this Vitamin C is never transferred into your bloodstream and even less of it makes it into your cells where it's needed most. In fact, when you take 1,000mg or more of regular oral Vitamin C, more than half of it is digested and passed as waste by your body.
Until now...
LivOn's patented Lypo-Spheric Vitamin C encapsulates the C molecules in liposomes made from Essential Phospholipids, which protect the C from destruction by your digestive juices. Within minutes of taking Lypo-Spheric Vitamin C, liposomes filled with Vitamin C are transported directly into the bloodstream, and into the cells
LivOn technology makes all the difference
LivOn Laboratories was the first company to utilize a highly sophisticated technology which originated with the pharmacetutical industry. This technology, utilizing "liposomes" as the supplement delivery system, provides your body with a "two for one". With LivOn products your body receives important liposomes as well as an important nutritional supplement. This liposomal form of Vitamin C is the first choice of people who really understand bioavailability and the importance of high-dose vitamin C. Other forms of vitamin C succumb to absorption barriers that vastly limit the level of vitamin C that can enter the bloodstream. Lypo-Spheric™ Vitamin C crashes through these barriers to get high potency vitamin C where you need it most, to your cells.
8 Reasons you need Vitamin C
Protect cells from the damage caused by free radicals
Supports a healthy immune system
Supports collagen production for healthier skin, muscles and joints
Promotes muscle repair
Supports healthy gums
Supports optimal overall health
Supports Paleo, Zone and Vegan Diets
Today, there is some scientific evidence suggesting that consumption of antioxidant vitamins, like Lypo-Spheric Vitamin C may reduce the risk of certain fatal disease and illnesses.
Encapsulating Vitamin C in Essential Phospholipids Gives Your Body a Powerful 1 - 2 Punch.
You get the benefits of Vitamin C and help satisfy the body's ever-growing need for essential phospholipids and phosphatidylcholine, one of the most important phospholipids required for many vital functions in maintaining a healthy cardiovascular, reproductive, immune, and nervous system.
Supplement Facts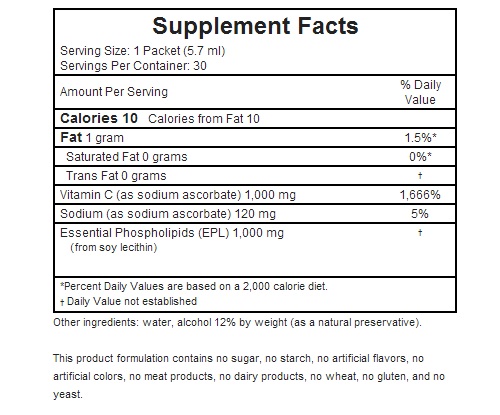 Dosage and Use:
As a dietary supplement, take one packet 1-2 times per day. For best results snip or tear the notched end off the packet, squeeze into one or more ounces of your favorite cool beverage, drink on an empty stomach, and wait at least 15 minutes before eating. We do not recommend mixing the product with a hot beverage or with any high-speed blenders or food processors.
Storage Instructions:
If you ever use a partial packet, reseal the open packet containing the remaining product in an airtight bag or plastic wrap and refrigerate. This will help prevent the oxidation that occurs when the product is left in the open air for long periods of time. After 24 hours, it is recommended that you dispose of the resealed packet. The box containing the remaining packets should be stored in a cool, dry place. Do not freeze or place the product in direct sunlight for extended periods of time.